Parents know how chaotic the morning routine can be. Getting the kids fed, dressed and out the door on time for school is no easy feat. When you combine that stress with a busy parking lot at the school, the chances of something unfortunate happening increase. Let's look at a few technologies that can serve as your morning co-pilot to help reduce the chances of a backover accident.
Parking Sensors Provide Audible Warnings
A parking sensor system is one of the best technology upgrades to help prevent backover accidents. High-quality sensors can detect objects as thin as a signpost and provide a clearly audible warning that an object or person is in the vehicle's path. These sensors are the best solution because they work without the driver remembering to activate them. When rushing to get to work after dropping the kids off, the clear beep from a parking sensor system will get your attention so you can stop immediately.
Parking sensors can be added to almost any car, truck or SUV. Most systems include four ultrasonic transducers that mount flush in the bumper. They can be installed in plastic bumper covers or steel bumpers on trucks, vans and SUVs. In addition, the sensors can be painted to match a plastic bumper cover to help them blend into the vehicle.
Backup Camera Systems
Another great way to prevent backover accidents is to add a backup camera to your vehicle. These systems allow you to see objects and people behind the vehicle that would otherwise be invisible from the driver's seat. The systems include a wide-angle camera that mounts on or near the rear license plate, along with a display in the interior. Depending on your vehicle, display options include the color screen of a factory-installed infotainment system, a rearview mirror with a built-in screen or a stand-alone display. Stand-alone displays are common in delivery vans in place of a rearview mirror. Another display option is an aftermarket multimedia radio with a color screen.
The key to using a backup camera system is remembering to look at the display. Once you've had the system for a while, you grow accustomed to checking it when backing into or out of a parking spot. Many luxury vehicles combine a backup camera with parking sensors to ensure that the driver can watch out for nearby people or obstacles. A specialty mobile enhancement retailer can easily install both on your vehicle.
Radar-Based Alert Systems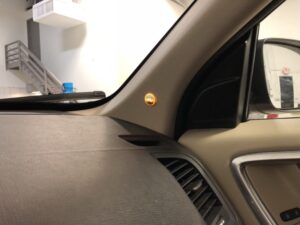 A third option is a radar-based blind spot monitoring system. This technology was designed primarily to help prevent accidents when changing lanes, but most of these systems include a cross-traffic warning that will let you know when someone or something is approaching from the side while you're backing up. These systems work like parking sensor systems by warning the driver when there is a concern.
Technology Can Help Prevent Backover Accidents
If you've had a close call or want to reduce the risk of a backover accident at home, school, work or in a shopping plaza, visit one of our partner retailers to find out about the solutions that are available for your vehicle. You can find a retailer specializing in safety systems using the Dealer Locator here on our website.