One of the most popular vehicles among newly minted teenage drivers is the Honda Civic. It's reliable, comfortable and fuel-efficient. However, your child's first car probably lacks today's Advanced Driver Assistance System features that are standard on the 2023 Honda Civic. Honda is making a push for teenage driver safety. They would love for your child to stroll into the local dealership and finance a brand new Civic at a very high interest rate. But the reality is that your child's first vehicle will probably be about the average age of America's vehicle fleet, about 12½ years old, according to the latest analysis from S&P Global Mobility. So what can we do for the aging 2010 Civic to bring it up to today's standards? Let's consider a two-pronged approach involving education and updated automotive technology.
First Stop, Education – The Driver Is Key
Funding for drivers education programs around the country has been dwindling. But sending out better drivers on the roads, in combination with crash avoidance systems, can help make the goal of zero vehicular deaths a reality.
Honda Safety Driven is a new safety program and education initiative that empowers students nationwide to use safe driving skills as a roadmap to becoming responsible decision-makers. Partnering with Discovery Education to take it to the classroom, Honda Safety Driven officially kicked off in October 2023 during National Teen Driver Safety Week with "The Science & Behavior of Safe Driving: It Takes All of Us," a new virtual field trip for students in grades 3-12. With its Science, Technology, Engineering, Art and Mathematics (STEAM) focus, students will learn about safe driving as the virtual field trip takes them inside Honda's Automotive Safety Research Facility in Raymond, Ohio, and the Driving Simulation Laboratory at The Ohio State University. There, the student hosts explore how Honda is innovating the future of safety and striving to create a collision-free future for everyone.
MJ Foxley, safety strategy leader at Honda, notes, "Too many young drivers die in preventable crashes every year, devastating families and communities across the U.S., and Honda continues to explore new ways to avert these tragedies. Honda is targeting zero traffic fatalities involving our vehicles by the year 2050, and Honda Safety Driven puts resources in the hands of educators, students and families to create the next generation of responsible drivers and passengers."
Updated Safety Features Benefit Young Drivers
Honda launched its Safety for Everyone approach 20 years ago, an initiative committed to advancing safety for all of us who share the road. That same year, in 2003, Honda established one of the world's most advanced safety research facilities in Ohio. What followed were innovations that included Honda's Advanced Compatibility Engineering body structure, award-winning airbag design, vehicles designed to mitigate injuries to pedestrians and industry-leading application of safety and driver assistive technologies in Honda Sensing.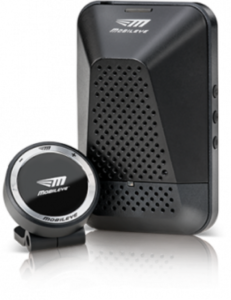 The Honda Sensing Advanced Driver Assistance System includes forward collision warning but did not appear until 2015, so the 2010 Civic did not have this technology. Luckily, the aftermarket can install this updated automotive technology, including forward-facing collision warning with products such as MobilEye. This can alert a young driver to apply the brakes if they aren't paying attention – sometimes the lure of an incoming text can yank the attention away of an otherwise exemplary straight-A student. It also can help keep them in their lane if they drift out of it because of distractions.
The aftermarket can also alert young drivers to vehicles alongside theirs with blind spot monitors. The blind spot has always given young drivers a problem. VOXX Electronics offers a system that integrates into a license plate frame to keep the price reasonable. It includes both visual and audible alerts in the cabin so the driver can stay in their lane if another vehicle is present in their blind spot. The technology that first found its way into the 2015 CR-V can now be installed in a 2010 Civic.
Keep an Eye with an App
The Honda Driver Coaching smartphone app, free to download from the Apple App Store, is designed to help improve the skills of new drivers and promote safe driving practices. Honda Driver Coaching is the perfect complement to formal drivers education as it combines exclusive access to the vehicle's onboard computer to deliver detailed, real-time driving analysis with a clever game component to create lessons that are fun and engaging. This technology can also be used with the older Civic.
Armed with education and updated automotive technology, we can reduce traffic accidents among young people – especially those driving older cars.