Sometimes a tragedy hits so close to home, it demands that you act on it. Backover incidents involving children are a senseless tragedy that is preventable. Luckily for me, my father taught me as a driver to always back up slowly. He wisely said, "Your first car accident will probably be accidentally backing into something." But that's just one piece of the puzzle. One of most eye-opening examples I have experienced was a demonstration involving a class full of children. All 16 of them were sitting comfortably behind a SUV without me being able to catch the slightest glimpse of them in the rearview mirror. A backup camera would have eliminated the potential catastrophe of taking out a theoretical elementary school class.
KidsAndCars.org Safety Legislation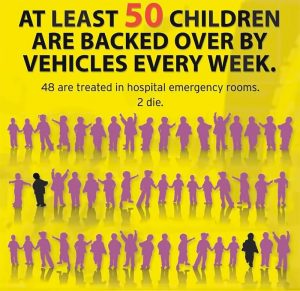 Perhaps no organization has worked harder or made a bigger impact in legislating mandatory backup cameras than KidsAndCars.org. They petitioned the U.S. Department of Transportation to force automakers to include the technology on all new vehicles … and now it's the law. Why would our government lag on this issue? The powerful automobile manufacturer lobby. There was a small additional expense per vehicle to integrate a rearview camera — even though the cost per unit would be minimal on a grand scale. Now automakers must add the technology in new cars. However, the average car on the road in the U.S. is 12 years old. Is there something we can do for these legacy vehicles? Of course, the aftermarket offers both rear camera systems and backup sensors that can minimize the chances of running over a child.
Backup Camera Need Hits Home
I grew up in a community with houses built close together. My best friend from childhood lived across the street from Cameron Gulbransen, a two-year old who was accidentally crushed to death in 2002 by what was purportedly the safest SUV on the market at the time. And it probably was … for the interior occupants. However, active pedestrian monitoring was still in its infancy.
My friend's father, usually a stoic man, was brought to tears recalling the event: "I was home watching TV when I heard the commotion. And I heard screams I never heard before. I didn't even know human beings could make such a horrific sound. The scream that mom made will haunt me for the rest of my life."
Cameron's father, Greg Gulbransen, was an educated doctor who deeply cared for his children, driving the latest, greatest and safest SUV. If it could happen to him, it could happen to anyone. But with the technology available today, it should not happen to anyone. Any more. Ever again.
Backup Safety Integration
Backup cameras and sensors are now simple to integrate, especially if your vehicle has a screen from the factory. Today's mobile electronics specialists have adapters to enable the rearview camera to be displayed right on your current vehicle's screen when you put the car into reverse. What if you don't have a screen? Some of the latest technologies include aftermarket rearview mirrors that display the camera feed on a small screen built right into the mirror. You do not need to add a secondary display if you think it will clutter the interior. Some solutions can even display what's happening behind your car on your smartphone. These rely on special mounts that can wirelessly charge the phone while keeping it in your line of sight. But you need the help of a mobile electronics specialist to get the best results to be sure the feed will work when the vehicle is placed in reverse. If you'd prefer not to add a display at all, a backup sensor can be integrated into the existing system. It will beep with increasing intensity as you approach an object in reverse. Not only can it save your bumper and dignity from a rogue street sign, it can also save a child's life.
Technology can help us eliminate or minimize so many of the world's tragedies. Today's vehicles are safer than they have ever been in preventing trauma to those in the vicinity of a car. But even if your vehicle is a few years old, you can still integrate these technologies at a reasonable cost. And for any parent or neighbor, that offers tremendous piece of mind.