If you are reading this on the Vision Zero website, then it should be no surprise to learn that a backup camera is easily the best collision avoidance upgrade you can make to your car, truck or SUV. Being able to see objects or — more importantly — people behind your vehicle while parking or maneuvering can dramatically reduce the chances of an accident. We've looked at many of the universal and vehicle-specific camera options available from mobile enhancement retailers in the past. Now it's time to talk about the different ways you can view the image from such a camera.
Aftermarket Multimedia Receiver
If you've decided to upgrade the audio system in your vehicle, then you've probably considered a multimedia receiver that includes a color display. These usually have screens with sizes of 6 to 7 inches, and some of the new floating-face receivers have screens as large as 11 inches. These floating-face radios are an excellent option for vehicles that don't have room for the typical double-DIN multimedia receiver.
Source unit options include provisions for at least a backup camera, although many allow your installer to add a forward-facing or blind-spot monitoring solution. In all cases, the rearview camera image will display automatically when you put the transmission in reverse.
Factory-Installed Color Display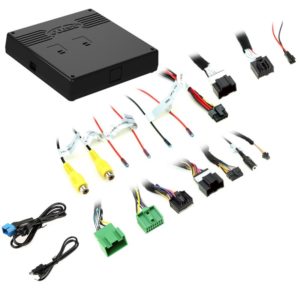 Many vehicles come with a color display in the dash. In many cases, the image from an aftermarket backup camera can be displayed on this screen by adding an interface module. Just as with some of the premium multimedia receivers, these interfaces allow multiple cameras to be connected and displayed. A forward-facing camera in the front grille can help see parking curbs or the bumper of another vehicle when parking or maneuvering in a large SUV or pickup truck.
Replacement Rearview Mirror
If your vehicle doesn't have a screen in the dash, then a replacement rearview mirror with an integrated color screen is a great choice. These mirrors are available with 3.3- or 4.3-inch screens or, in some cases, a wide-angle screen that spans the entire width of the chassis. When the camera is off, the mirror works just like the factory-installed unit to let you see what's behind you. When you put the transmission in reverse, the image shines through the mirror's reflective coating to let you see those hidden objects.
Upgraded rearview mirrors are available with options like a built-in compass, Homelink and auto-dimming features.
Standalone Displays
Suppose you are considering adding a backup camera to a commercial vehicle like a cube van. In that case, you may want to consider using a standalone display screen that can be mounted on the dash, in the center console or to the roof liner where a typical rearview mirror would be. These displays vary in size from 4 to 8 inches and include the option of displaying the image from multiple cameras simultaneously. With no way to see out the back window of many of these vehicles, you may choose to implement two cameras. One camera can be faced rearward to help see other vehicles when you're changing lanes, and a secondary camera can be used when parking and maneuvering. You can even have a camera added to monitor the cargo in the back of a van.
Add Safety to Your Vehicle with a Backup Camera
Being able to see objects or people behind you while backing up provides invaluable peace of mind. Drop by your local specialty mobile enhancement retailer today to find out what options are available to integrate a backup camera system into your car, truck or SUV. To find a retailer that specializes in vehicle safety systems, use the Dealer Locator here on the Vision Zero website.