If your vehicle didn't come with a backup camera, your local mobile enhancement retailer can help you pick the perfect solution to help you park and maneuver safely. Cameras are available in hundreds of shapes, sizes and styles so that you can see everything behind you when backing up. Most of these cameras are designed to seem like they're part of the vehicle and not an afterthought, so your vehicle will continue to look as though it just rolled out of the showroom while providing crucial information that can prevent accidents.
Trunk Lip Cameras
One of the most popular backup camera options can be mounted under the edge of your car or SUV's trunk or tailgate. These cameras feature an integrated angled mount that lets you see objects right behind the bumper and people or vehicles approaching from the side. This style of backup camera is similar to the factory-installed options on many vehicles.
License Plate Cameras
Another popular camera option includes a bracket that uses the upper mounting holes of the rear license plate on your vehicle. These solutions are simple and effective, but not as concealed or integrated as a trunk lip camera.
Pickup Truck Tailgate Cameras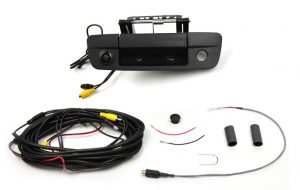 If you own a pickup truck, several camera options replace the tailgate handle, or in the case of Ford trucks, the manufacturer's brand badge. These solutions work better than a license plate camera because the added height lets you see more of the area behind the trunk. Tailgate cameras are vehicle specific, so be sure to accurately convey the year, make, model and trim level of your truck when talking to the salesperson at your local shop.
SUV Brake Light Cameras
If you drive a work van or SUV, several companies offer camera solutions that are integrated into a replacement third brake light assembly. These bolt-in solutions look as though they came from the factory and afford a near aerial-view of what is behind the vehicle.
Universal Camera Solutions
Many companies offer universal cameras that can be mounted on top of or below a mounting surface for custom installations. Depending on the model your retailer recommends, these solutions may include parking lines in the image to help you gauge distances from objects. These cameras are also available for forward-facing applications in large trucks or SUVs to show objects in front of the vehicle when parking.
Camera Installation is Important
Choosing a backup camera that looks good is important, but how the system is integrated into the electronics of your vehicle is crucial to its reliable operation. The Vision Zero Automotive Network recommends dealing with a specialty mobile enhancement retailer like the ones found in our Dealer Locator. These shops have the tools and training to make sure the camera system is mounted securely and wired safely to ensure maximum reliability. All of the wiring will be hidden and protected. Visit a local specialty automotive enhancement retailer today to find out how technology can help minimize the estimated 40,000 traffic fatalities and millions of automobile-related injuries that occur each year in the United States.