Whether you're towing a pop-up trailer behind the family SUV or a 40-foot fifth-wheel RV behind a heavy-duty pickup, a camera system will make the journey safer. You'll also be able to park safely and quickly without worrying about bumping into anything or anyone. If this sounds too good to be true, keep reading as we review safety solutions for all types of trailers.
Rearview Mirror Display Options
If there's a trailer behind your car or truck, it's going to be hard to use your rearview mirror. Fortunately, dozens of high-quality replacement mirror options include a high-quality video display. These screens can display the image from a camera mounted on the back of the trailer, so you can see when someone is behind you or when it's safe to change lanes.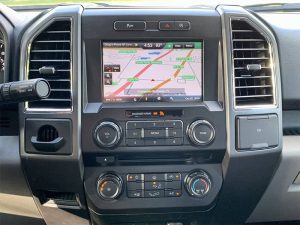 Depending on the make and model of your vehicle, there may be a camera integration module that works with the factory-installed color display in your dash. When you put the transmission in reverse or activate a turn signal, the camera image will appear automatically on the screen in your dash. Some systems include the option of showing the camera image all the time. Check with one of our partner retailers to determine what's available for your vehicle.
Trailer Towing Camera Options
Depending on your needs, your trailer may be best suited to a compact camera ordinarily used on the back of a car or SUV, or it might benefit from a heavy-duty camera mounted high on the back. When choosing a camera, make sure it has a wide field of vision. This will let you see vehicles, objects, pedestrians and cyclists beside and behind the trailer. You'll also want a solution that works well in dark conditions so that you can maneuver and park safely at night.
Camera Wiring and Integration
You have a couple of options when it comes to connecting a camera with the display system in your vehicle. The most reliable solution is to use a trailer cable kit. These kits have a flexible quick disconnect near the hitch. In addition, all the cables and connections are weather- and water-resistant, so rain, snow, dust and mud aren't a concern.
Another option is to use a wireless solution to connect the camera to your vehicle. These cameras include a transmitter module on the trailer and a receiver that connects to the display in the vehicle. The benefit of these systems is that there are never any extra wires to worry about. Their drawback is a slight lag in displaying the image on the screen. This delay can be as much as 0.5 second. While that doesn't seem like much, it does make a difference when you're parking or maneuvering. Therefore, extra care must be taken when using these systems.
You may have noticed that many camera wiring systems have provisions for multiple cameras. It's not a bad idea to consider adding secondary or tertiary cameras to the side of your trailer and having them activate with the turn signals. These cameras can let you know what's beside your trailer long before you start to change lanes. They are also very helpful in avoiding curbs when turning in tight areas.
Make Your Next Vacation Safer
Whether you're headed across the country or the city, having a camera system on your trailer is like having a spotter when parking. These reliable yet straightforward technology solutions can help you drive more efficiently and reduce the chances of a collision or accident. If you're looking for a retailer to upgrade your vehicle and trailer, use the Dealer Locator on our website.