A lot of car lovers have heard of the SEMA Show in Las Vegas. This trade show is the mecca of aftermarket car customization and personalization.
But additionally, SEMA — the Specialty Equipment Market Association — helps its members bring new products to the aftermarket, including the latest technological aids to promote safety. SEMA also wants to make sure that items such as brush bars, lighting, winches or hitches won't negatively affect the way OEM safety systems perform.
SEMA embraces the importance of Advanced Driver Assistance Systems, or ADAS. Understanding ADAS technologies and how they function is an integral component of the future of successful, complete and safe modifications.
To that end, SEMA recently purchased a 45,000-square-foot building in Detroit to be used as a second SEMA Garage, complementing the original high-tech SEMA Garage in Diamond Bar, Calif. At the Detroit garage, manufacturers will have access to advanced product-development tools and equipment, along with SEMA's ADAS Research and Development Center. There, aftermarket parts manufacturers will have access to sophisticated resources that are typically accessible only to large-scale manufacturers.
The research and development center represents a new venture for SEMA. Manufacturers will be able to obtain static calibration of on-board vehicle ADAS systems (radars and cameras), and with access to OEM-quality equipment and procedures, they'll be able to easily troubleshoot software/hardware obstacles, as well as work on dynamic testing in conjunction with local facilities.
Can This Aftermarket Equipment Be Installed Safely?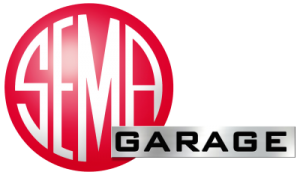 Some consumers are nervous about the proposition of installing safety equipment that wasn't built in at the factory. But the new SEMA facility gives aftermarket manufacturers the same tools OEMs use to validate and calibrate their ADAS technologies.
Mike Spagnola, SEMA's vice president of OEM Relations, said, "The SEMA Garage Detroit facility opens up new doors and opportunities. We will be able to take our current offerings to a whole new level by making the services accessible to new members, incorporating new technology, and collaborating with key partners in the area."
Capitalizing on OEM Design
Additionally, because the new center is located so close to Detroit's auto manufacturers, it will allow aftermarket manufacturers and OEMs to collaborate on safety.
"The SEMA Garage is a game changer for manufacturers," Spagnola said. "By utilizing the tools and resources in the SEMA Garage, manufacturers no longer rely on trial and error for their product development. They are also able to navigate the complex process of obtaining required certifications and meet compliance."
You CAN Take Your Pride and Joy from Outdated to Updated
For consumers, the new facility emphasizes how important ADAS is to the aftermarket and how technology-based safety can be safely added to your current ride. If you've been on the fence about adding safety features to your older vehicle because you don't think they'll work, seek out a VZAN retailer who can help take your current ride from outdated to updated. There's no reason you can't have blind spot protection, back-up protection or collision avoidance alerts in your current vehicle. Especially if that vehicle is used by the drivers with the least experience in your family. Even if your vehicle is heavily modified, ADAS protection for your pride and enjoy is a worthy investment.
Just because your vehicle has been taken to the edge doesn't mean your safety should be.