You are a small-business owner. Perhaps you do not have a fleet of big-rig trucks, but you do have a fleet of vans or pickups ready to make deliveries and pick up supplies. You can still take a lesson from the big-rig trucking industry. They have discovered that Advanced Driver Assistance Systems (ADAS) work when it comes to the bottom line. These systems mitigate insurance claims and keep vehicles on the road with less downtime. If you are a business owner and have seen how blind-spot assistance or lane-keeping assist works in your personal luxury car, wouldn't you also want these technologies in a vehicle with your company's logo on it?
Enter Bosch and Their Research
Bosch isn't a name that comes to mind for passenger-vehicle issues because they focus on being a supplier to the big-rig trucking industry — but they are a Tier-1 automotive supplier, so they have the backing and capability to research ADAS in large trucks. We can extrapolate those findings to a smaller passenger vehicle work fleet.
The Bosch accident research, titled "Safety + Enhanced Driver Comfort: Steering in Commercial Vehicle ADAS Systems," finds that lateral actuator systems in Class 7 and 8 trucks can reduce the costs of accidents by up to $0.04 per mile, or $3,700 annually per heavy truck. "Increasing levels of automation and driver assistance helps to reduce accidents and make drivers' lives easier," said Kevin O'Keefe, regional president of automotive steering for Bosch in North America. "The Bosch accident research findings illustrate how features like lane-change assist and lane-keeping support can contribute positively in multiple ways — reducing property damage, injuries and fatalities."
The Findings Equate to Dollars
To analyze the costs of crashes, Bosch used the KABCO injury scale (developed by the National Safety Council) and a driving distance of 100,000 miles per year (the Federal Highway Administration's estimate for long-distance heavy trucks). With the findings translated into dollars, the research shows that even at an assumed 50 percent efficiency, the savings from ADAS could total more than $9,000 per truck in five years. "The full value when injuries or fatalities from vehicular accidents are avoided is ultimately incalculable," O'Keefe said. "Safety technologies like lane-change assist and lane-keeping assist help to reduce accidents, which is the ultimate goal across the commercial vehicle industry."
Taking the Findings to Your Fleet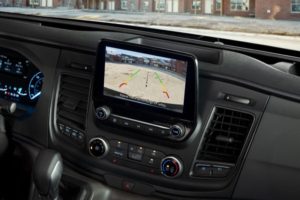 Although the Bosch study focused on trucks, if your business owns a fleet of vehicles, a prudent owner would look into retrofitting ADAS into the fleet. If your business is working in residential areas, a backup camera is almost mandatory. Companies are making specific solutions for popular models, such as the Ford E-Series or Mercedes Sprinter. If one of your drivers backs up into a mailbox in a residential neighborhood, it is annoying and costly. If the driver backs up into a child riding a bicycle, the damage is compounded exponentially on all levels.
ADAS systems that can alert your drivers to obstacles behind them in vehicles without good rear views are an excellent investment. If your vehicles are being driven on the highway, blind-spot monitoring systems will let your drivers know if there is a vehicle in their path before they change lanes. Lane-keeping assist systems will alert your drivers if they are getting drowsy and not keeping their vehicles between the lines.
All three of these technologies can be integrated by a VZAN affiliated dealer.
A Step Toward Safety
Bringing ADAS to your fleet of older trucks or vans is easy and requires minimal downtime. Most ADAS installations can be done on a vehicle in half a day. Your business should qualify for additional insurance discounts that can be especially generous for commercial vehicles. Every one of your vehicles on the road is representing your company, and ADAS can help contribute to promoting a first-class image of your company as one that promotes "safety first."