While it seems intuitive that vehicle manufacturers work hard to deliver the safest cars and trucks possible, when it comes to lighting, some are safer than others. The Insurance Institute for Highway Safety began testing automotive lighting systems in 2016. Their data shows that vehicles that received a Good rating (the highest in their testing) have 19% fewer crashes and 23% fewer accidents involving pedestrians at night than vehicles with lighting systems rated Poor.
Headlight Testing Standards
The IIHS's tests are far more complex than measuring who has the brightest headlights. The output of the low and high beams are measured for how they illuminate the left and right sides of the road. To be more specific, light sensors measure the distance from the vehicle where the headlight output reaches a level of 5 lux at 10 inches above the ground, where more distance is better. At the same time, any glare, which is unwanted light, is measured at 43 inches above the ground. Excessive glare will blind oncoming drivers. As such, lighting systems are heavily penalized for producing too much glare.
We know that not all roads are perfectly straight. As such, the IIHS also performs tests on both left- and right-hand curves. The gradual curves have a radius of 800 feet, and the sharp curves have a radius of 500 feet. Light output is measured for the low and high beams on these curves. Once again, more distance without glare results in better scores.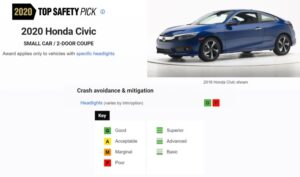 Vehicles equipped with curve-adaptive headlights are given additional points. Curve-adaptive headlights follow the steering wheel by pointing the light output to the left or right to illuminate the direction of travel. Think of this like a headlight mounted to a bicycle's handlebars rather than to the frame.
In 2022, the National Highway Traffic Safety Administration made it legal for vehicles to include adaptive beam lighting systems. These lights have miniature shutters that can block the output of the light in areas where it might cause glare to an oncoming vehicle. The blocked area changes in real time as the oncoming vehicle moves closer.
Upgrading Your Headlights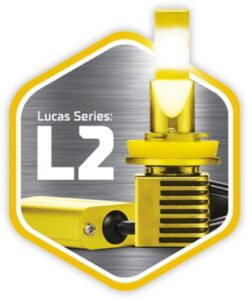 If you need to replace a headlight bulb or upgrade the lighting system to see better, make sure that the shop you're working with has a way to confirm that the beam pattern matches that of the factory-installed lighting. This alignment is crucial to light all parts of the road and ensure that no glare is produced that might affect oncoming drivers. Proper headlight aiming and pattern testing are vital for changing lighting technologies from halogen to HID or LED.
Also, remember that brighter low-beam lights might not let you see farther down the road. The headlight alignment typically governs the limit of the illumination distance. Adjusting a light to extend the illumination distance may introduce glare that can put you and other drivers at risk of an accident. Remember that all automotive headlight bulbs must be DOT approved unless they are being used for off-road or fog light applications.
See Safely to Drive Safely
Before heading out for a nighttime drive, make sure that your forward lighting system is aligned perfectly and operating to the vehicle manufacturer's specifications. If you're shopping for a new vehicle, check to see whether the lighting system has a Good headlight rating. You can look up a prospective vehicle on the IIHS website before purchasing.