Automobiles and bicycles have traditionally not gotten along. It is hard when the average bicycle weighs in at around 30 pounds and our American fleet is super-sized to more than 4,000 pounds per vehicle — especially with America's love of pickups and SUVs.
With the onset of electric vehicles and their heavy battery packs, the average car weight continues to grow, so we know who is going to win in the bike vs. car showdown. Moreover,  bicycle travel is more popular than ever in urban areas. This is because of powered bicycles with lithium-ion battery packs and the sky-high price of fuel promoting pedal transportation. Bicycles are getting up to moped-like speeds, and users do not have the issues of needing special licensing. And we still have our existing recreational bicyclists who are just looking to get some exercise and not create any unnecessary pollution.
Bicycle accidents are rising, and Vision Zero Automotive Network wants to combat that with technology.
Bicycle Accidents Are on the Rise
With this perfect storm of increased bicycle use, accidents are up. The latest NHTSA data comes to us from 2019, when electric bicycles were still in their infancy and gasoline prices were low. Even back then, though, the agency reported 846 bicycle fatalities from motor-vehicle–related accidents. That represents a 36% increase since 2010. Year-over-year, NHTSA reported on-road cycling injuries increased 4.3% to 49,000 in the U.S. in 2019. More currently, the National Roadway Safety Strategy released by the Department of Transportation (DOT) in January 2022 notes that "fatalities among pedestrians and bicyclists have been increasing faster than roadway fatalities overall in the past decade."
Audi and Spoke
Audi of America is working with a company called Spoke, a software mobility platform for safety, which in turn is working with Qualcomm to help what are deemed as vulnerable road users (VRUs) such as bicyclists. Using Cellular-Vehicle-to-Everything (C-V2X) technology, the companies are working together by conducting C-V2X trials. The bicycle-to-vehicle trials were designed to explore solutions to make Audi vehicles aware of bicyclists and other VRUs, as well as create safety alerts that can help prevent incidents among all road users. Audi continues to refine its C-V2X technologies for production-intent applications, allowing for a truly connected ecosystem between drivers and the world around them.
How it Works
Audi is developing hardware in its all-electric Audi e-tron Sportback test vehicle to use both direct vehicle-to-bicycle communication (using short-range signals that do not rely on cellular networks), and LTE signals that use cellular towers to identify bicycles on the road. Vehicles will be able to read their surroundings to identify when bicycles are nearby, interfacing with Spoke Safety's connected software suite, and even identify bicycles that may be obstructed from a driver's view. This is done by embedding small radio transmitters into the bicycles. For older bicycles, the technology could also be embedded into a helmet.
If you are driving a car and a bicycle is close to you but your view of it is obstructed, a large yellow alert pops up in the instrument cluster. In addition, bicyclists could be warned of vehicles with alerts integrated on a handlebar display or as a helmet audio alert. Such preemptive alerts — either from a car closing in on a cyclist or a driver getting an alert about an approaching bike — will help save lives.
Congress Will Help Fund the Technology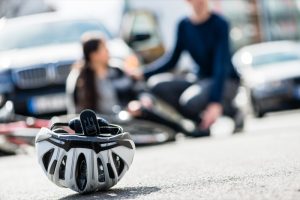 Congress passed the Infrastructure Investment and Jobs Act in November 2021. In addition to providing significant funding opportunities for deployments incorporating connected vehicle technologies, the legislation allocates funds for a two-year research study led by the National Highway Traffic Safety Administration (NHTSA) and the Federal Highway Administration to "expand vehicle-to-pedestrian research efforts focused on incorporating bicyclists and other vulnerable road users into the safe deployment of connected vehicle systems."
Support for the ability to realize the potential safety benefits of C-V2X technology became possible only recently, after an FCC ruling. In its decision, the FCC agreed to allocate a portion of the ITS 5.9 GHz cellular band for C-V2X applications for the first time. The decision allows for using C-V2X to exchange standardized communications between vehicles, and between vehicles and infrastructure.
At Vision Zero Automotive Network, we worry about bicyclists. Not all of us car enthusiasts drive every day, and we want to remain safe on our bikes. We also worry about our loved ones who pedal. It will be easy to integrate bicycle C-V2X technology into our current vehicles. The government is helping to promote the technology and the signal band necessary to make it work. We look forward to more testing and a day when hidden bicycles magically appear to unaware drivers through technology.